Here is our view of the marsh and lake. Check out those massive snow-flakes!
We always keep an eye out for wild-life, but only saw birds on this trip.
Chad and I headed up to Portage last weekend. I know - another portage post right after the last one? Sorry, but that 2nd part was a continuation of the actual trip back in November. I know - lame blog fail on my part, but I wanted to get the recipes posted. This weekend proved to be another great success - and in real time, yay!
It was a weekend of wood-fires, reading (I started the first book of the
Twilight
trilogy,) cooking and eating. Friday, I was lazy so we cracked a bag of jalapeno chips (my favorite!) and threw in a frozen pizza. I had a hankering for "swill" beer, so I was drinking high-life, the champagne of beer, and managed to guzzle 4 throughout the evening. Sometimes beer just tastes so good! Definitely not clean eating nor healthy, but I was in comfort food heaven.
Saturday, I woke early-ish (way before Chad got up) so I made my favorite and typical breakfast: 2 eggs, over-easy on toast with bacon. If there's one tip I can give to making bacon, slow and steady wins the race! Cook on medium-low and be patient. Your bacon will be sure to turn out crispy and chewy and perfect. Man, I love me my bacon!
I had planned a
Blueberry French Toast Casserole
, but forgot that you are supposed to make it and let it sit overnight. So, I proceeded to make the casserole for the next morning. It is SO EASY. Make sure to make it with REAL blueberries in the casserole part - otherwise it turns out more soggy, in my opinion. I made the mistake of not bringing what I needed for the 2nd part to the recipe (for the blueberry syrup), but it worked with regular syrup instead.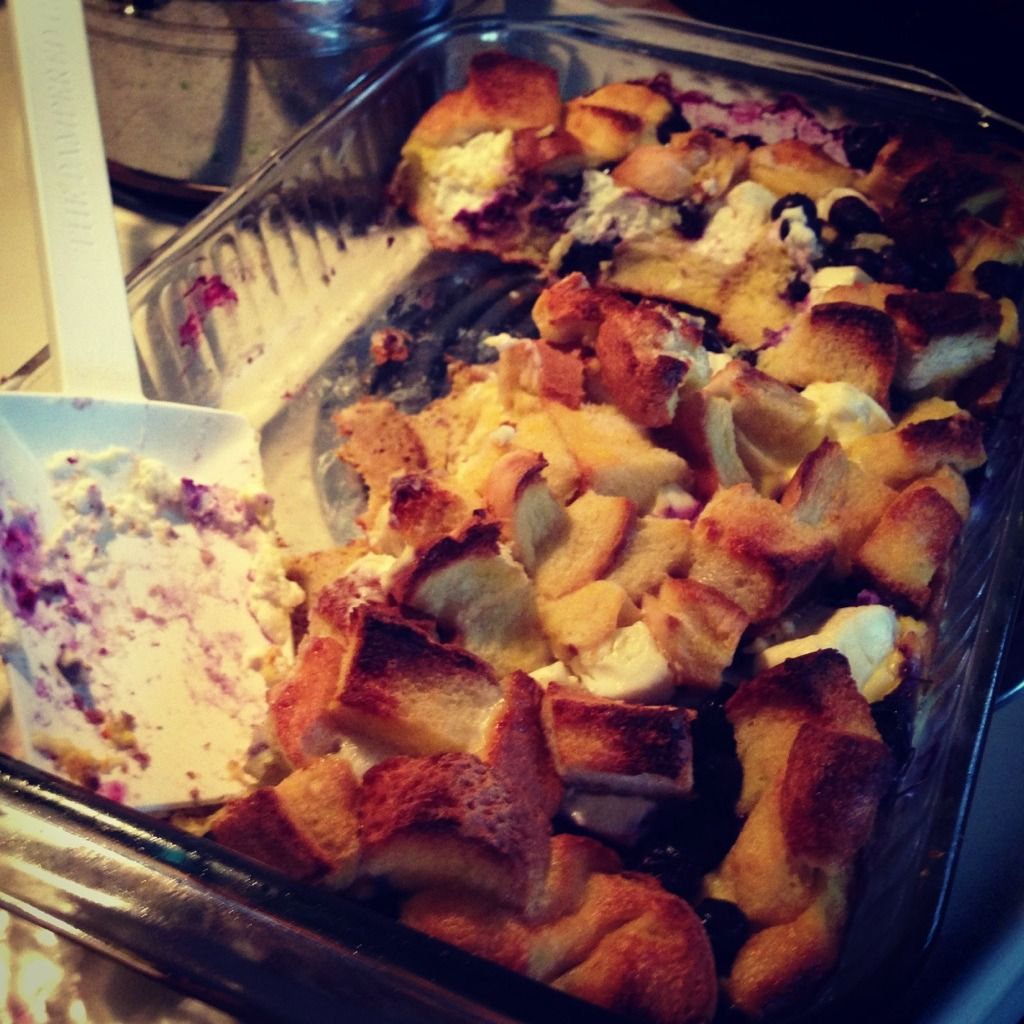 For the afternoon, I planned to make a
potato soup recipe
that I found. It looked pretty easy and healthy. It calls to be made in a crock-pot, but like a crack-pot I forgot that at home, so we ended up making it on the stove. I wasn't sure of the timing, but we weren't going anywhere so I just made sure to watch it carefully.
This turned out AMAZING!!! I WILL make this again. I'm lazy and don't like the peel potatoes, and don't mind having peels in my food, so I just cooked them with them on. I chopped the potatoes about a half to one inch cubed and it seemed to cook down pretty well. Also, I used some of the bacon from the morning to add, along with cheese and green onions. These really jazz up the soup (even though it doesn't really need it.
Favorite part of the weekend? Sunday, it started snowing, and the large windows make it so relaxing to just sit and watch the flakes come down. Also, there is a sky-light in the living area that lets us know when it's raining or coming down hard. I think that is one of my favorite and relaxing sounds. We also were stalking the fishermen on the ice. Chad and I were scoping out what they were up to with our binoculars from time-to-time. We feel so secluded up here, it's nice to see some people out and about!
Here are some more views from our weekend. I am not all that experienced on
Instagram
so I was playing around with it quite a bit.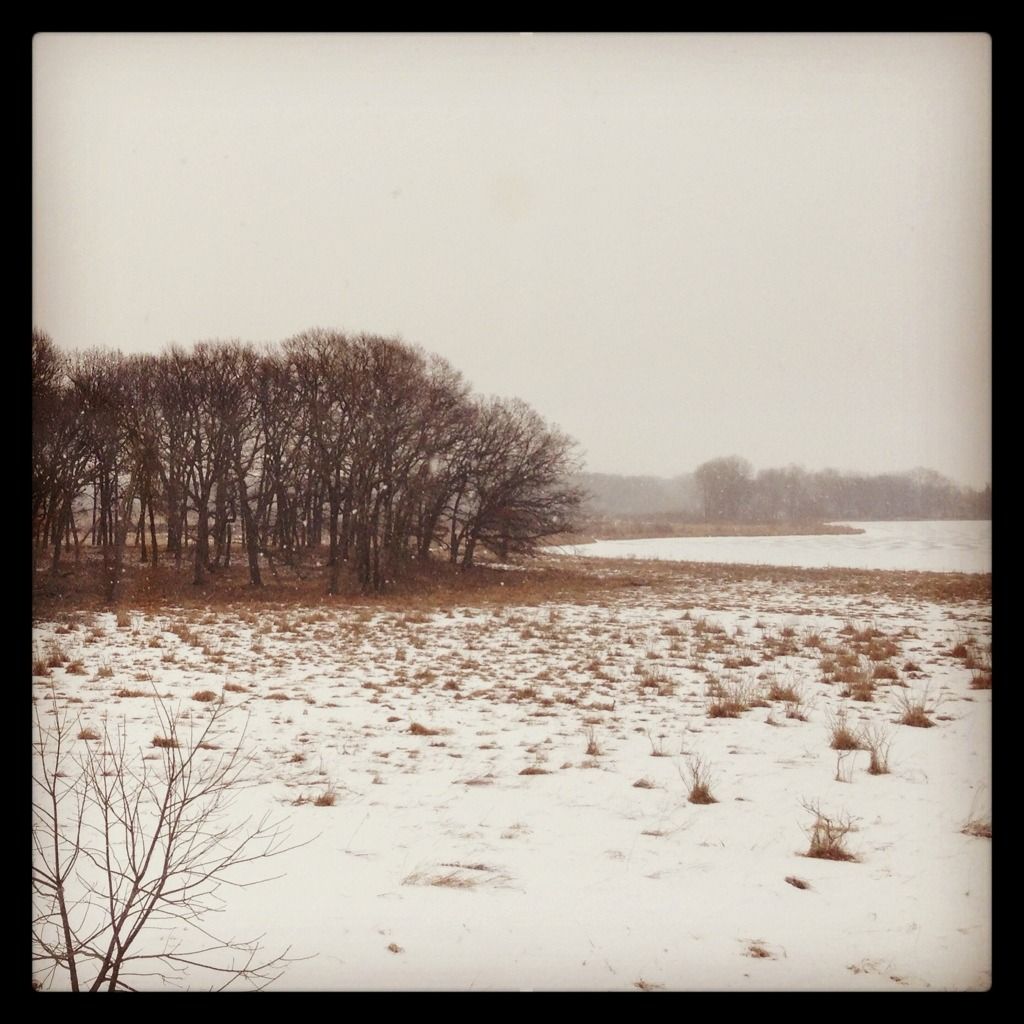 Such a gorgeous view! Very peaceful.
No birds in this shot, but I love glancing over and seeing what bird comes next. We see tons of different kinds up here.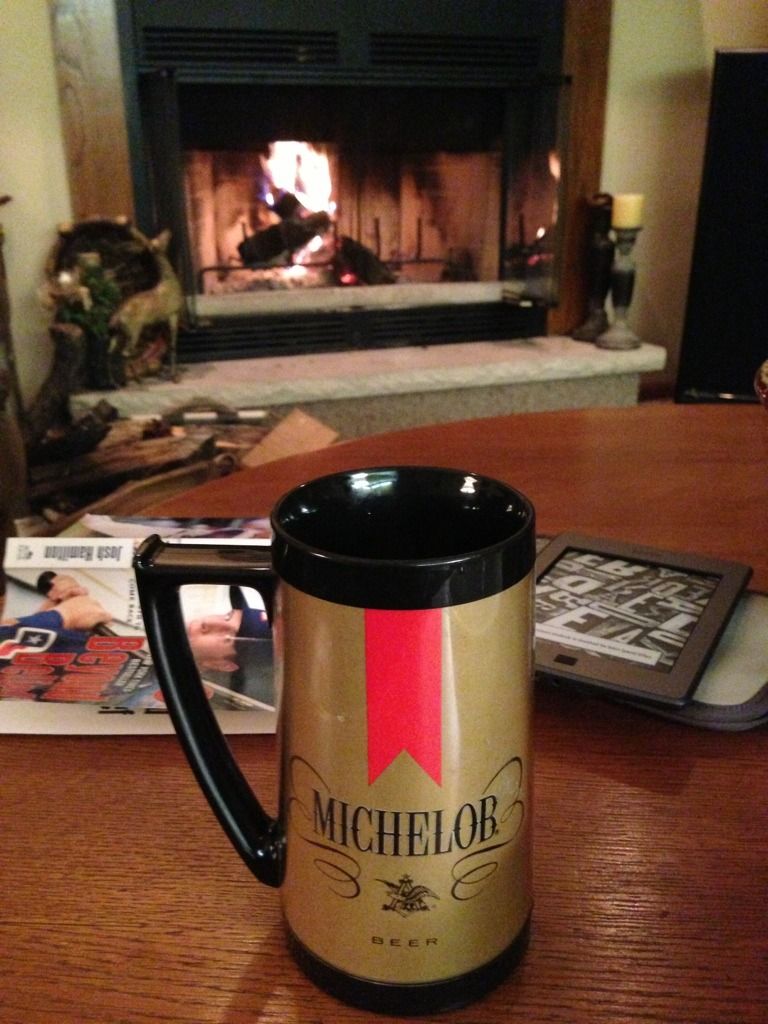 I LOVE this mug that my aunt has at the house. They are perfect for cold beer or drinks because they don't sweat, so no coaster needed. There is more to this story coming later this week so check back about my new favorite mugs :)
Funny back-story. We made the Blueberry french toast on a previous trip (last summer). Packing up to head out, we loaded a big cooler full of all our left-overs and took off like we always do. Only, we forgot the cooler in the kitchen. It was the summer so the food did not survive the following weekend when my aunt and uncle made it up there. So, we only got to have the french toast for one meal. Such a bummer, but something we look back on and laugh about!
Hope you enjoy these recipes! I know WE did! :)